About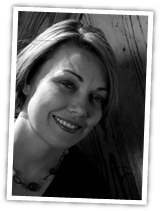 As a college senior in 1997, I sold my first magazine story. I was hooked. After working briefly as an English teacher and then as a staff writer and editor, I became a full-time freelance writer in 2001.
Over the years, my work has been published by a number of consumer, trade and custom magazines and Web sites, and I've produced communications products for a number of small businesses and major corporations. I've interviewed well-known figures such as Chef Emeril Lagasse and humor writer Dave Barry, and I've investigated the pros and cons of wastewater reuse and the importance of taking vacations. Currently, I write regularly on the topics of business, travel and food, homes and gardens, and family. And I'm always on the lookout for interesting, challenging writing opportunities.
My husband and I are the parents of two young sons and the caretakers of a big vegetable garden, so when I'm not working, I spend a lot of time at the playground or in the kitchen.
"Nancy is an excellent and versatile writer who meets deadlines and works well with our clients."

Grant Lehman,
Lighthouse Counsel

"Nancy is a lively writer with a strong voice who turns in creative, flawless pieces on deadline. She is a pleasure to work with."

Margaret Foster, Editor, PreservationOnline

"Nancy is a superb communicator. Her writing tells the story our clients need to share. She interacts seamlessly with our clients and our internal team."

Jeff Jowdy,
Lighthouse Counsel

"Nancy is a pleasure to edit. She is willing to take assignments on a wide range of subjects, and to do the research she needs to understand the topic and communicate it to our broad audience in an enjoyable way. She makes my job easier by meeting deadlines consistently and following the publication's style earnestly."

Lindsay Isaacs,
American City & County

"Nancy's projects come in on time and on budget without continual changes and edits. She gets it the first time."

Shawn Wright, Partner/Creative Director,
Atticus Communications

"You've hit this out of the park ... You have the talent to be anyone's freelance writer of choice."

Peter Shure,
Executive Vice President,
Response Custom Publishing

"Nancy is a great writer and sharp editor who can always be counted on to deliver well-researched, focused assignments under deadline. Not only does she produce on-point story assignments for [our magazines, but she regularly suggests creative story topics that further broaden the magazines' appeal."

Jamie Roberts,
Editorial Director,
Hammock Publishing

"Nancy is a true professional; she is always on time and works very hard to satisfy her clients. It is amazing how she can take a concept and work it through to create a wonderful finished product. I would recommend Nancy to anyone."

Rebel Negley,
Image Strategies, Inc.