Corporate Communications
My corporate communications writing includes blogs, newsletters, brochures, white papers, advertising copy, case studies, ghost writing, feature articles, fact sheets, web content, marketing materials, reports, custom publications, annual reports and media kits.
Sample Projects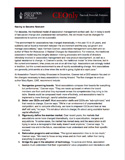 Electronic Newsletter
Association Forum of Chicagoland
I research, report and write the bulk of each issue of CEOnly, the Association Forum's quarterly newsletter targeted to the top executives in professional associations.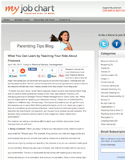 Blog Post
MyJobChart.com
I contribute to the parenting tips blog at MyJobChart.com, an online resource for teaching, organizing and motivating kids to manage money wisely.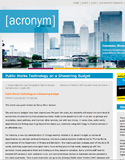 Blog Post
DLT Solutions
Working with my client April Marketing, I contribute to Acronym Online, a blog focused on computer-aided design and related digital design technologies for the public sector.

Custom Publication
Experient
I served as writer and editor for the Experient Guide to the Food and Beverage Experience, an eight-chapter guide to creating and serving memorable menus at meetings and conventions, produced by event management company Experient and funded by the Hilton Hotels Corporation.

Company Brochure
Porter Capital Group
Working with design firm Atticus Communications, I served as copywriter for this corporate brochure for a company that provides financing to businesses.

Web Site Copy
Dungan-Nequette Architects
I have written copy for several Dungan Nequette web sites, including this one for Tracery, the firm's interior design company.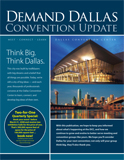 Newsletter
Integrated Marketing Media
I serve as writer, editor and project manager for a series of direct marketing newsletters including this one for Integrated Marketing Media's destination marketing clients.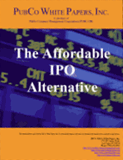 White Paper
Public Company Management Corporation
I have written, edited, and collaborated on a number of information-packed white papers targeted to small business owners for Public Company Management Corporation.
Other corporate and organizational clients have included:
"Nancy is an excellent and versatile writer who meets deadlines and works well with our clients."

Grant Lehman,
Lighthouse Counsel

"Nancy is a lively writer with a strong voice who turns in creative, flawless pieces on deadline. She is a pleasure to work with."

Margaret Foster, Editor, PreservationOnline

"Nancy is a superb communicator. Her writing tells the story our clients need to share. She interacts seamlessly with our clients and our internal team."

Jeff Jowdy,
Lighthouse Counsel

"Nancy is a pleasure to edit. She is willing to take assignments on a wide range of subjects, and to do the research she needs to understand the topic and communicate it to our broad audience in an enjoyable way. She makes my job easier by meeting deadlines consistently and following the publication's style earnestly."

Lindsay Isaacs,
American City & County

"Nancy's projects come in on time and on budget without continual changes and edits. She gets it the first time."

Shawn Wright, Partner/Creative Director,
Atticus Communications

"You've hit this out of the park ... You have the talent to be anyone's freelance writer of choice."

Peter Shure,
Executive Vice President,
Response Custom Publishing

"Nancy is a great writer and sharp editor who can always be counted on to deliver well-researched, focused assignments under deadline. Not only does she produce on-point story assignments for [our magazines, but she regularly suggests creative story topics that further broaden the magazines' appeal."

Jamie Roberts,
Editorial Director,
Hammock Publishing

"Nancy is a true professional; she is always on time and works very hard to satisfy her clients. It is amazing how she can take a concept and work it through to create a wonderful finished product. I would recommend Nancy to anyone."

Rebel Negley,
Image Strategies, Inc.